Welcome to Pokemon Emulators Website

Introduction
We have heard and known so much information about the Pokemon Emulators, but maybe we don't know clearly about them. So, exactly what are they?
Basically, Pokemon Emulators are a type of emulator which allowing a computing device can emulate the hardware of any gaming system… from a handheld to a console. There are many different platforms for emulating a gaming system. When talking about Pokemon Emulators, we usually think about the PC platform first because the system of a PC is strong enough to emulate a gaming system from low to high. Moreover, with a video game emulator we can have more functions and extend the limit of a normal gaming system like mapping the controllers – set up the display ratio – choose the Surround or Mono/Stereo sound – using Cheats Code like Gameshark or Codebreaker will be much more easier depending on the user interface – etc.
After having an emulator, the only thing you will need is a ROM (or we usually call it Game). This is the copy of game catridge data which was created by some special tools. Instead of buying the real gaming system with its own game catridge, we find some emulators and ROM. After finding it, extract the ROM and use the emulator to play. Some emulators can read the compressed ROM in the RAR or ZIP format (no need to extract them out).
Advantages
There are some advantages of an emulator in comparison with a real system:
Can use the ROM hacking and modification. If the original game had some errors or gamers just want to modify-edit-adjust in the ways they want, they can use some tools and make that happen. Of course the emulator is the fastest and most convenient way to test the games.
With an emulator, many enhancements are added: graphics and audio improvements, save state function for saving anywhere and anytime, boot the game faster, bypass the splash screens of the original manufacturer, online multiplayer, slow down or speed up the emulation speed, bypass the region lockout, set up the controllers, use cheat codes easier, stretch or change between many different display ratios.
List of Supported Gaming Systems
List of Emulators
And some of the most famous Pokemon Emulators for many different gaming systems are here:

Popular Playable Pokemon Games
With all of above emulators, you can enjoy all Pokemon Games on your computers & devices. Remember to download the right emulator that supports your Game ROM system.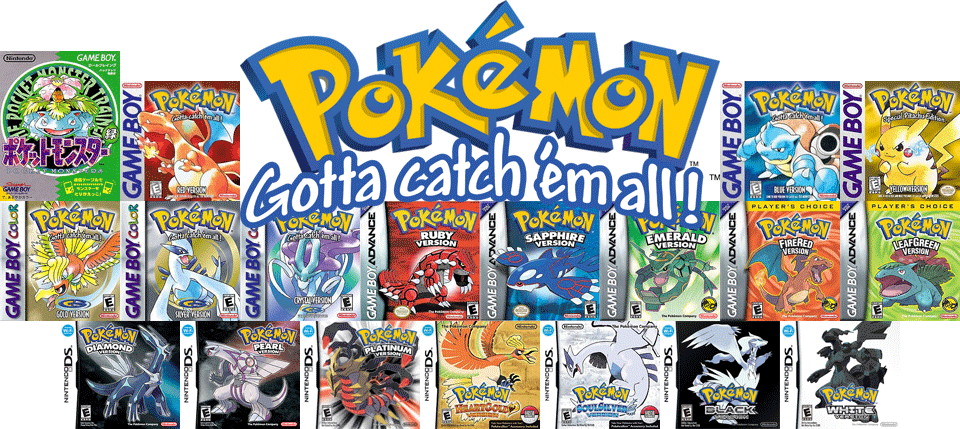 Handheld Games
Game Boy Color: Pokemon Red/Blue/Green, Yellow, Gold/Silver, Crystal, Trading Card Game, Pinball, Puzzle Challenge, Pokemon Crystal Hacks & Pokemon GBC Hacks.
Game Boy Advance: Pokemon Ruby/Sapphire, FireRed/LeafGreen, Emerald, Mystery Dungeon Red Rescue Team, Pinball Ruby & Sapphire, Pokemon Fire Red Hacks, Pokemon Emerald Hacks, Pokemon Ruby Hacks & Pokemon GBA Hacks.
DS: Pokemon Diamond/Pearl, Platinum, Heart Gold/Soul Silver, Black/White, Black 2/White 2, Mystery Dungeon Blue Rescue Team, Mystery Dungeon Explorers of Time/Darkness/Sky.
3DS: Pokemon X/Y, Omega Ruby/Alpha Sapphire, Sun/Moon, Ultra Sun/Ultra Moon.
Console Games
Nintendo 64: Pokemon Stadium, Snap, Puzzle League, Hey You, Pikachu!, Stadium 2.
GameCube: Pokemon Colosseum, Box: Ruby and Sapphire, Channel, XD: Gale of Darkness.
Wii: Pokemon Battle Revolution, My Pokemon Ranch, Rumble, PokéPark Wii: Pikachu's Adventure.
Wii U: Pokken Tournament.